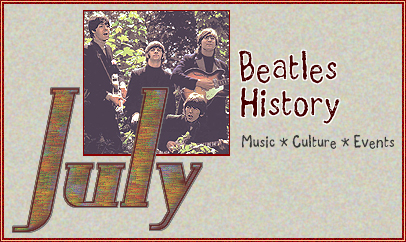 History offers
a chance
to truly
understand
how the past
impacts the now.


Follow our
daily timelime
of historical
events to
discover the
role The Beatles
played in changing
the modern world.
THE FOLLOWING EVENTS TOOK PLACE ON JULY 5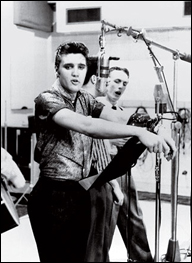 1865--The world's first speed limit, two miles per hour, is imposed in Britain under the Locomotives and Highways Act.

1946--The bikini makes its debut, during an outdoor fashion show at the Molitor Pool in Paris.

1948--Britain's National Health Service Act goes into effect, providing government-financed medical and dental care.

1954--Elvis Presley invents "rock 'n' roll" as he, Scotty Moore, and Bill Black start messing around on a song called That's All Right (Mama) at Memphis' Sun Studios. Scotty Moore remembered, "When we heard a playback, we knew we had some kind of rhythm, a little different rhythm, but none of us knew what to call it." He said at the time, "Good God! They'll run us out of town when they hear this." Studio owner, Sam Phillips, recalled, "I knew we had a hit."

1962--The Beatles perform at the Majestic Ballroom, Birkenhead.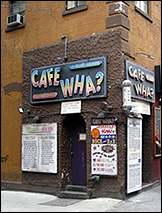 1963--The Beatles perform at the Plaza Ballroom in Old Hill. This booking had been arranged long before, and Brian Epstein would have preferred to cancel it, but he would not renege upon the agreement. Appearing with The Beatles is Denny and the Diplomats, led by Denny Laine, who will go on to join The Moody Blues and, eventually, Paul McCartney's group, Wings.

1966--Chas Chandler, of The Animals, goes to see Jimi Hendrix play at Cafe Wha? in New York's Greenwich Village. He later tells Hendrix he should move to London in order to launch his career.

1968--The Beatles in the recording studio (Studio Two, EMI Studios, London). More overdubs recorded for Ob-La-Di Ob-La-Da, including, three saxes and one set of conga drums. This version of the song, which is not the version released on The Beatles (The White Album), is included on The Beatles Anthology 3 (Disc one, Track 11).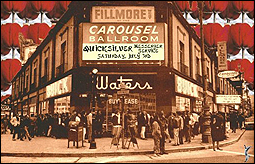 1968--Bill Graham opens the Fillmore West in San Francisco.

1969--The Rolling Stones play a free concert in London's Hyde Park.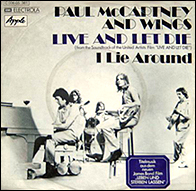 1971--The 26th Amendment to the US Constitution, reducing the voting age to 18, is ratified.

1973--The James Bond movie, "Live and Let Die," opens in theaters. Paul McCartney and Wings provided the title song.

1980--The #1 single in the US is Coming Up, by Paul McCartney (three weeks at #1).

1984--The Everly Brothers kick off their reunion tour in Cincinnati, Ohio.

1998--Julian Lennon appears at the star-studded Prince's Trust Concert at London's Hyde Park.

For more day-by-day history go to HistoryUnlimited.net