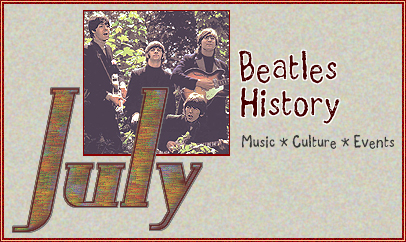 History offers
a chance
to truly
understand
how the past
impacts the now.


Follow our
daily timelime
of historical
events to
discover the
role The Beatles
played in changing
the modern world.
THE FOLLOWING EVENTS TOOK PLACE ON JULY 11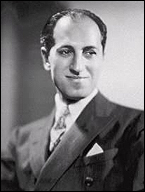 1937--The great American composer, George Gershwin, dies from a brain tumor in Beverly Hills, California, at the age of 38.

1955--The US Congress authorizes the use of the phrase "In God We Trust" on all American currency.

1962--The Beatles perform at the Cavern Club at night.

1963--The Beatles perform two shows at the Winter Gardens, Margate, Kent.

1964--The Beatles appear live on the ABC Television program "Lucky Stars (Summer Spin)." They lip-sync to their songs A Hard Day's Night, Long Tall Sally, Things We Said Today, and You Can't Do That. To avoid the crowd of fans waiting for them, The Beatles get to the Teddington Studio Centre by boat, traveling down the Thames River to the studio's own mooring platform.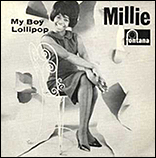 1964--George Harrison is photographed by "Beatles Book" photographer Leslie Bryce, showing off his new E-type Jaguar in front of Whaddon House, William Mews, London.

1964--18-year-old Millie Small hit #2 on the pop music charts with My Boy Lollipop. She was known as the "Blue Beat Girl" in Jamaica, her homeland.

1966--At the Ivor Novello Awards in London, John Lennon and Paul McCartney pick up trophies for "Highest Certified British Sales of 1965" for We Can Work It Out and "Outstanding Song of 1965" for Yesterday.

1968--The Beatles in the recording studio (Studio Three, EMI Studios, London). Overdubbing electric piano and bass onto Revolution (the kick-ass single version). The electric piano part is played by Nicky Hopkins. Then three saxophones and bass are overdubbed onto Ob-La-Di Ob-La-Da.

1968--At St. Sophia's Church, London, John Alexis Mardas (Magic Alex) marries Eufrosyne Doxiades. John Lennon and Yoko Ono, and George and Pattie Harrison attend.

1969--The Beatles in the recording studio (Studio Two, EMI Studios, London). Recording overdubs for Maxwell's Silver Hammer and You Never Give Me Your Money, followed by mixing for Something.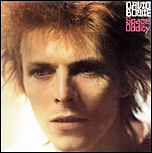 1969--David Bowie releases the album, Space Oddity.

1981--EMI's Abbey Road Studio announces the "finding" of supposedly lost Beatles recordings: How Do You Do It, That Means a Lot, If You've Got Trouble, and Leave My Kitten Alone.

1988--UK release of the John Lennon interview CD, The Last Word (Baktabak). It contains 55 minutes of the 150-minute interview with Lennon for RKO Radio that was taped on December 8, 1980, only hours before he was murdered. A shorter version of this interview had been previously released in the US on the vinyl Reflections and Poetry LP.

1991--After an eight-month closure, the new Cavern Club on Mathew Street, now owned by Cavern City Tours, re-opens its doors for business.

For more day-by-day history go to HistoryUnlimited.net