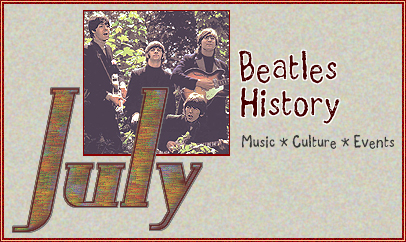 History offers
a chance
to truly
understand
how the past
impacts the now.


Follow our
daily timelime
of historical
events to
discover the
role The Beatles
played in changing
the modern world.
THE FOLLOWING EVENTS TOOK PLACE ON JULY 15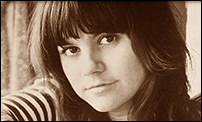 1869--Margarine is patented in Paris, for use by the French Navy.

1904--The first Buddhist temple in the US is established in Los Angeles, California.

1946--Country-rock singer, Linda Ronstadt, is born in Tucson, Arizona.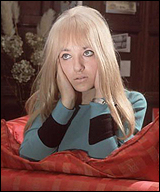 1948--Twinkle, a populare girl singer during the British Invasion years, is born in Surbiton, England.

1955--Disneyland opens in Anaheim, California, on a site that had been an orange grove.

1957--The Everly Brothers' first hit, Bye Bye Love, begins a seven-week run as #1 on the country charts. The song also makes it to #2 on the pop charts.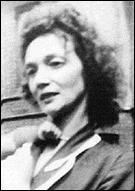 1958--John Lennon's mother, Julia, is killed instantly when she is hit by a car driven by an off-duty policeman who is driving while intoxicated. Julia was walking to a bus stop after visiting her sister, Mimi. John continued to live with his Aunt Mimi, while his two half-sisters went to live with their Aunt Harriet, Julia's youngest sister. John, who was just starting to develop a relationship with his mother, was devastated. The driver who hit Julia stood trial, but he was acquitted. John, only 17 years old, begins to seek solace in alcohol and music. [Note: this is the second of two dates given for the death of Julia Lennon Dykins.]

1961--The Beatles perform at Holyoake Hall, Wavertree, Liverpool. Geographically, this venue is the closest that The Beatles come to performing at Penny Lane.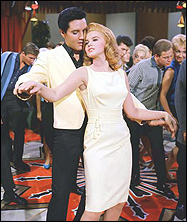 1962--The Beatles perform at the Cavern Club at night.

1963--Paul McCartney is caught speeding and fined £17 for the offense.

1963--Elvis Presley begins shooting "Viva Las Vegas," which proves to be one the coolest and most popular Elvis movies of all time.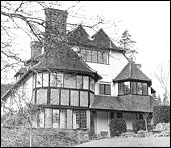 1964--John, Cynthia and Julian Lennon move into Kenwood, on the exclusive St. George's Hill estate in Weybridge, Surrey. They had previously occupied a top floor flat in Emperor's Gate, Kensington, where Cynthia was virtually a prisoner (due to Beatlemania) while John was away on tour.

1964--The Beatles' single, A Hard Day's Night is #1 in the UK (New Musical Express).

1966--Klaus Voorman is released from his NEMS contract by Brian Epstein, so that he can join Manfred Mann as their bassist.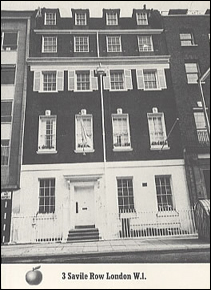 1966--After the disaster The Beatles experienced while on tour in the Philippines, NEMS, acting as agents, cancels Freddie and the Dreamers' concerts in that country, which were scheduled to start on August 5.

1968--The Beatles in the recording studio (Studio Two, EMI Studios, London). Paul McCartney records the lead vocal that will be on the released version of Ob-La-Di Ob-La-Da. An unreleased mono mix of the song is made, along with two mono mixes of Revolution (the single version). The Beatles also rehearse Cry Baby Cry.

1968--Apple Corps Ltd. moves into new offices at 3 Savile Row in London.

1968--Ringo Starr forms "Startling Music, Ltd."

1969--The Beatles in the recording studio (Studios Three and Two, EMI Studios, London). Recording overdubs for You Never Give Me Your Money.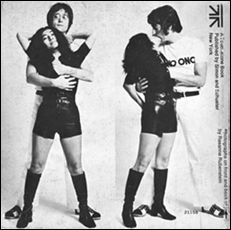 1971--John Lennon and Yoko Ono attend a book-signing promotional appearance at the London department store, Selfridges, for the re-publication of Yoko's book, "Grapefruit." John says of the book: "Grapefruit is a beautiful and profound book from the genius of one of the world's most inmportant artists. In the future, it will be used widely by people with time on their hands. It will help them to live."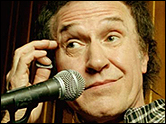 1973--A depressed Ray Davies, balancing a beer can on his head, announces he is retiring from music during a concert by The Kinks at London's White City Stadium. "I'm fucking sick of the whole thing," he says. "I'm sick up to here with it." His decision is brought on by exhaustion and his wife recently leaving him. He returns to the group within the week.

1974--John Lennon records Move Over Ms. L at the Record Plant in New York. (This track was originally meant for Keith Moon.) He also writes the unreleashed song "Incantation" with Roy Cicala, but no recording of the song has ever surfaced.

1974--Paul and Linda McCartney fly to New York to see John Lennon and his companion, May Pang, at their new apartment.

1984--UK release of the John Lennon / Yoko Ono single, I'm Stepping Out / Sleepless Night (Polydor). Also released as a 12-inch single with an additional Yoko song, Loneliness, on the B-side.

For more day-by-day history go to HistoryUnlimited.net