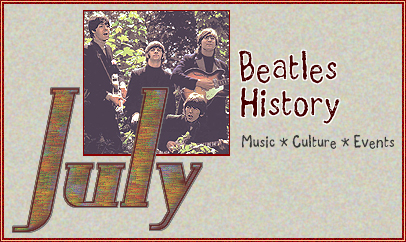 History offers
a chance
to truly
understand
how the past
impacts the now.


Follow our
daily timelime
of historical
events to
discover the
role The Beatles
played in changing
the modern world.
THE FOLLOWING EVENTS TOOK PLACE ON JULY 20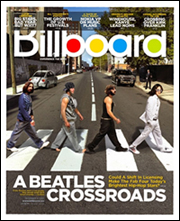 1858--The first tax on packages of cigarettes is levied.

1944--The first Billboard music popularity chart is introduced.

1954--In Memphis, a young Elvis Presley gives his first concert using a flatbed truck as a stage. Billed with Scotty Moore and Bill Black as the Blue Moon Boys, Elvis was playing the show to commemorate the opening of a new drugstore on Lamar Avenue.


1957--Pete Shotton runs into Paul McCartney on the street and, on behalf of John Lennon and The Quarry Men, Shotton invites Paul to become a group member.

1961--The Beatles perform at St. John's Hall, Tuebrook, Liverpool.

1961--The second issue of Mersey Beat features The Beatles on the cover, along with a report on their recording session with Tony Sheridan (in Germany).

1962--The Beatles perform at the Cavern Club at lunchtime and at Bell Hall, Warrington, Lancashire, at night. Warrington is 18 miles east of Liverpool. As Brian Epstein had promised The Beatles when he asked to be their manager, he was frequently booking them out of Liverpool for their live performances.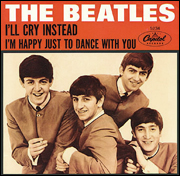 1963--The Beatles perform for two houses at the Ritz Ballroom, Rhyl, Flintshire. This is the second of two consecutive nights at this venue in North Wales, with every performance sold-out.

1964--US release of The Beatles' single, I'll Cry Instead / I'm Happy Just To Dance With You (Capitol). 7 weeks on Billboard chart; highest position #25.

1964--US release of The Beatles' single, And I Love Her / If I Fell (Capitol). 9 weeks on Billboard chart; highest position #12.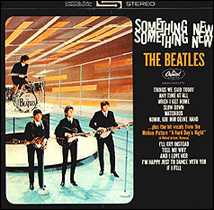 1964--US release of The Beatles' LP, Something New (Capitol). Songs: I'll Cry Instead, Things We Said Today, Any Time At All, When I Get Home, Slow Down, Matchbox, Tell Me Why, And I Love Her, I'm Happy Just To Dance With You, If I Fell, and Komm, Gib Mir Deine Hand. 41 weeks on Billboard chart; highest position #2.

1964--The press announces the issue of Beatles Ltd. shares.

1965--Bob Dylan releases Like a Rolling Stone. The single becomes his first major hit, reaching No. 2.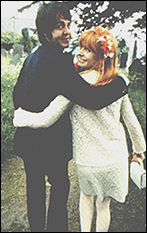 1968--Paul McCartney and Jane Asher break their engagement. Reportedly, Paul found out about it while watching Jane give a television interview. Before long, Paul will begin seeing Linda Eastman, a professional photographer who specializes in candid photos of rock musicians.

1969--Apollo 11 astronauts Neil Armstrong and Edwin "Buzz" Aldrin become the first men to walk on the Moon, after their lunar module separates from the command module and lands on the lunar surface at 9:18 GMT / 4:18 EDT on the Sea of Tranquillity. Neil Armstrong and Edwin Aldrin establish "Tranquility Base," while Michael Collins orbits above. Armstrong steps on the lunar surface at 10:56 EDT and proclaims, "That's one small step for man, one giant leap for mankind." Nearly 700 million Earthlings tune in, as the historic moment is televised around the world.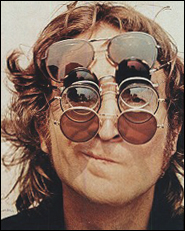 1971--John Lennon and Yoko Ono face the world's media in another press conference for her book, "Grapefruit"; this time at the Lennon's spacious Tittenhurst Park mansion in Ascot. Due to the sheer volume of people present at this unique event, John and Yoko stipulate that at the very most they will spend no more than 15 minutes with each reporter-journalist.

1977--Gary Kellgren, operator and part-owner of two of the most popular recording studios on the West Coast (the Los Angeles Record Plant and the Sausalito Record Plant), drowns in a Hollywood swimming pool. He had engineered and produced albums by Jimi Hendrix, John Lennon, Ringo Starr, George Harrison, Rod Stewart, Barbara Streisand, and Sly and the Family Stone. He was 38.

1987--UK re-release of the John Lennon album, Walls and Bridges, on CD (EMI).