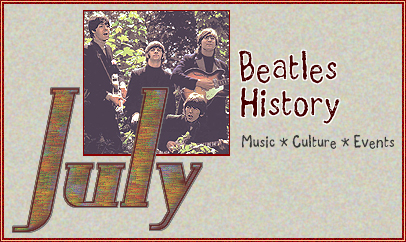 History offers
a chance
to truly
understand
how the past
impacts the now.


Follow our
daily timelime
of historical
events to
discover the
role The Beatles
played in changing
the modern world.
THE FOLLOWING EVENTS TOOK PLACE ON JULY 3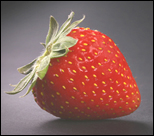 1806--Michael Keens exhibits the first cultivated strawberry.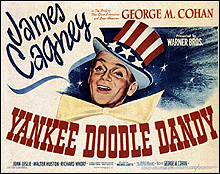 1878--George M. Cohan, actor-singer-composer, is born. His many popular songs included, Over There, The Yankee Doodle Boy, Give My Regards to Broadway, and You're a Grand Old Flag. His life was the subject of the movie, "Yankee Doodle Dandy" (starring James Cagney) and the Broadway show, "George M!"

1883--Franz Kafka, author of "Metamorphosis," is born in Czechoslovakia.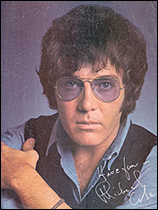 1943--Investigative reporter, Geraldo Rivera, is born.

1945--Mod Squad actor, Michael Cole, is born in Madison, Wisconsin.

1953--Harry Belafonte is shown with actress Janet Leigh and film star Tony Curtis on the cover of Ebony magazine. It was the first time blacks and whites were seen together on a US magazine cover.

1954--Food rationing ends in Great Britain, almost nine years after the end of World War II.

1962--The Beatles perform at the Cavern Club -- a lunchtime show.

1963--The Beatles record a performance for the BBC radio program "The Beat Show," at Manchester's Playhouse Theatre. They perform before a live audience during the taping, playing the songs From Me to You, A Taste of Honey, and Twist and Shout. Broadcast on July 4. Fearing that The Beatles could suffer from over-exposure, Brian Epstein has begun turning down radio appearances, rejecting six such appearances for June through August.

1965--On a tour in Europe, The Beatles fly from Madrid to Barcelona. That night they perform a concert in another bullring, the Plaza de Toros Monumental in Barcelona, Spain. This is the final performance of their two-week tour.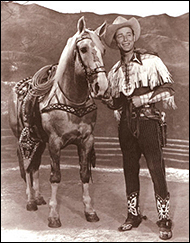 1965--Singing cowboy, Roy Rogers, mourns the death of his horse Trigger. The animal is later stuffed and put in the Roy Rogers Museum.

1966--The Beatles fly from Tokyo to Manila, Philippines. On their arrival, from the airport they are taken out to a dock (without Brian Epstein, Neil Aspinall, and Mal Evans) and are separated from their luggage for half an hour. No explanation of this "kidnapping" of The Beatles is ever offered.

1966--The New York Times Magazine publishes an article about The Beatles by Maureen Cleeve. In it, she reports an unnamed Beatle as having said, "Show business is an extension of the Jewish religion." John Lennon admits to having made the statement. The world seems to take little offense at John's outrageous remark.

1967--The Beatles' LP, Sgt. Pepper's Lonely Hearts Club Band, reaches #1 in the US charts. It will sit at #1 for 19 weeks and appear in the US charts for 113 weeks.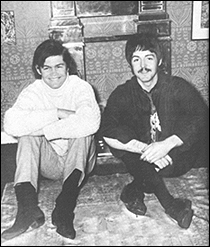 1967--John and Cynthia Lennon, George and Pattie Harrison, and Paul McCartney (with Jane Asher) attend a private party held at the Speakeasy Club in London for the American group The Monkees. Ringo Starr was unable to attend, as was Monkee Davy Jones. The party was hosted by Vic Lewis, agent for Brian Epstein's NEMS Enterprises, who had contracted for The Monkees to perform at the Empire Pool, Wembley, from June 30-July 3. Also attending the party are Dusty Springfield, Klaus Voorman, Manfred Mann, The Who, Procol Harum, Lulu, Eric Clapton, The Fool, and guests of honor Michael Nesmith, Peter Tork, and Micky Dolenz (the other three Monkees). Vic Lewis would go on to become managing director of NEMS Enterprises after Brian Epstein's death.

1968--The Beatles in the recording studio (Studio Two, EMI Studios, London). Recording Ob-La-Di Ob-La-Da. Paul McCartney and Ringo Starr tape seven rhythm tracks, then overdubs are added onto takes four and seven.

1969--The Beatles in the recording studio (Studio Two, EMI Studios, London). Recording overdubs for Golden Slumbers / Carry That Weight. Paul McCartney, George Harrison, and Ringo Starr are in the studio, but John Lennon is still in the hospital in Scotland, recovering from injuries sustained in an auto accident.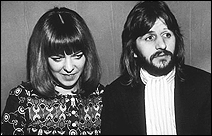 1969--Ringo Starr and his wife, Maureen, appear at a press conference launching the Plastic Ono Band single, Give Peace a Chance, which will be issued the following day. John Lennon and Yoko Ono, still in a hospital in Scotland, are not able to appear. Guests are handed clear plastic boxes, each containing an acorn sitting in a bed of cotton-wool. The acorn is meant to be planted for peace. Give Peace A Chance is played over the loud-speaker for three hours until the guests get the message (that the Lennons are not going to make an appearance) and go home.

1969--Rolling Stones co-founder and guitarist, Brian Jones, is found dead in his swimming pool at his Cotchford Farm, Hartfield, England home. He was 27. Only a month before, he had been asked to leave the band because of his serious drug problems. Rumors of both suicide and murder begin surrounding his death. The coroner cites high levels of alcohol and barbituates in his blood and attributes the drowning to "misadventure."

1970--The three-day "Peace and Poetry Festival," planned to start today at Mosport Park in Toronto, Canada (announced by John Lennon and Yoko Ono at their press conference at Ontario's New Science Center on December 17, 1969) fails to materialize.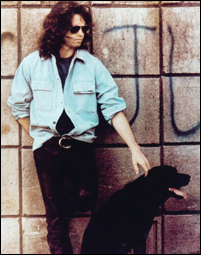 1971--John Lennon and Yoko Ono fly to New York, where John intends to conclude his work on his Imagine album at the Record Plant.

1971--Paul and Linda McCartney's album, Ram, reaches #1 in the UK charts.

1971--Jim Morrison, lead singer with the rock group, The Doors, dies in Paris at age 27. Fans don't learn of his passing until six days after it happened, by which time he was quietly buried in the Pere-Lachaise cemetery. Jim's death was originally believed to be a heart attack brought about by a respiratory ailment. However, some associates of his come forward in 1990, indicating that he may have actually died from a heroin overdose, primarily due to his lack of familiarity with the powerful narcotic. Any number of undiagnosed physical ailments may also have contributed to Jim's death.


1975--Three Dog Night's Chuck Negron is arrested in Louisville, Kentucky, on charges of cocaine possession. The charge is later dropped after the court finds that the warrant was obtained via "unfounded information."

1981--The surviving Doors, Robby Krieger, Ray Manzarek, and John Densmore, lead fans in a graveside memorial for Jim Morrison in Paris.

1989--Julian Lennon performs in Liverpool, England for the first time.

1998--Bob Dylan plays his 1,000th show on the so-called Neverending Tour at the 32nd Annual Montreux Jazz Festival.

For more day-by-day history go to HistoryUnlimited.net